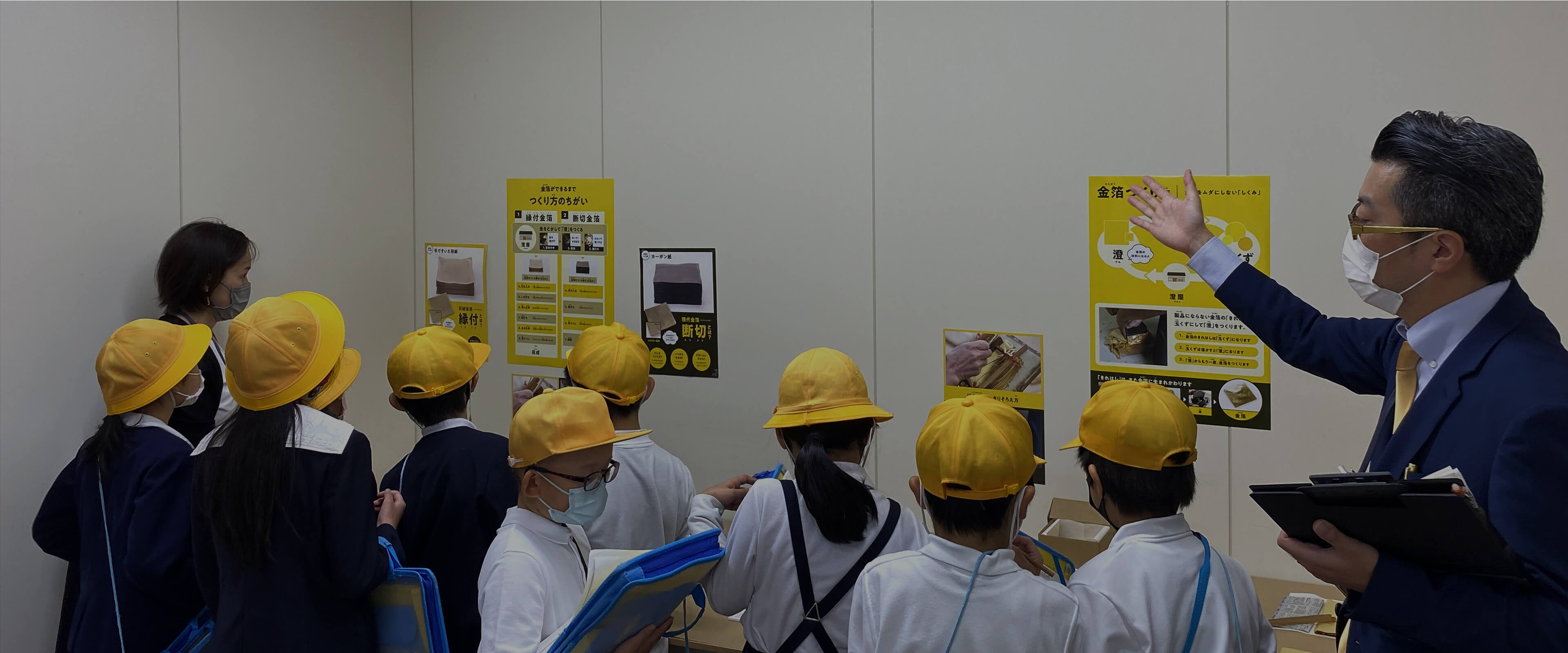 SDGs Initiatives
HAKUZA supports the Sustainable Development Goals (SDGs)
Creating a future in which metal leaf is there next to us
HAKUZA's corporate philosophy does not envision a world in which only metal leaf exists. In a world that includes metal leaf, people are happier; it can offer emotional support and enrich their spirits. It's a future where gold leaf exists to make people happy.
Gold leaf creation is actually based on recycling. Gold scraps generated during manufacturing processes, the edges of gold leaf sheets left over after being cut into squares, gold leaf scraps generated when the application process is finished. All are collected, melted down and reproduced as pure gold, without leaving any behind.
In addition, gold-beating paper used in the traditional method of making entsuke gold leaf is also employed as an oil absorbing paper called "Furuya paper".
Gold leaf creation is truly a cyclical, sustainable system. HAKUZA not only preserves the skills required and maintains the spirit of sustainable manufacturing, but also considers what is necessary for society and what we can do for a better future, while taking action to realize these things.
Our priorities and examples of initiatives
Up to now, HAKUZA has held gold leaf application workshops mainly for tourists at "HAKUZA Keikodokoro" in Kanazawa's Higashi Chaya district, and workshops for experiencing the charm of gold leaf and to enjoy creating works in Nihonbashi, Tokyo.
In addition, we actively provide social studies lessons and gold leaf application experiences for local elementary schools, junior high schools, kindergartens and nursery schools.
In recent years, we have been focusing on activities targeting children in particular, and are carrying out a variety of metal leaf awareness activities. We provide content that allows children to learn about the history and culture of Kanazawa and Japan, while also having fun through gold leaf without being bound by conventional formats.
In addition, we are actively involved in activities with other organizations such as Kanazawa City and NPO Kanazawa Art Gummi; and we are participating in the "Art Gumi" project in which artists work together closely.
Gold leaf application workshop for all 6th grade students in Hodatsushimizu Town (Hakui District, Ishikawa Prefecture)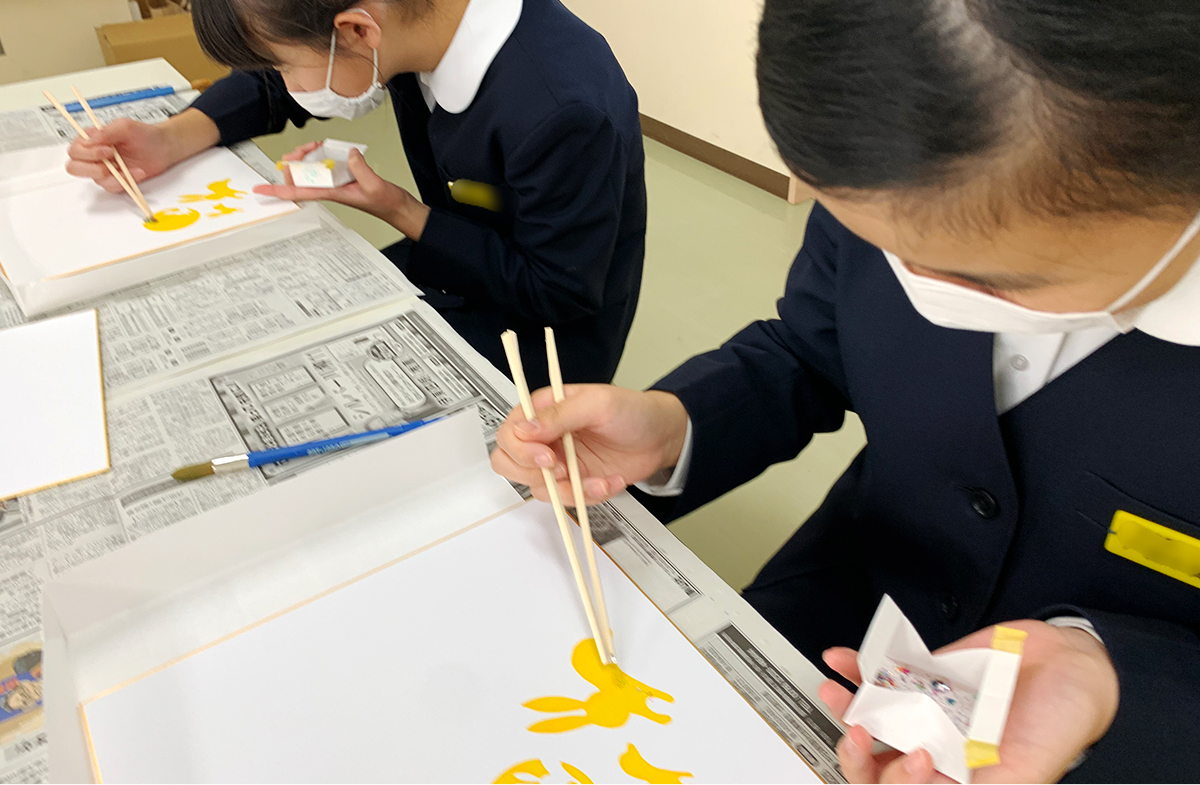 This was a collaborative project with Hodatsushimizu Town, with which HAKUZA has a partnership agreement. We provided a workshop where students learned about the local area, such as the history that Mt. Hodatsu, the symbol of the town, supported the finances of the Kaga clan as a former gold mine.
HAKUZA Main Store tour & gold leaf application experience for children from Hikari Nursery School (Kanazawa City)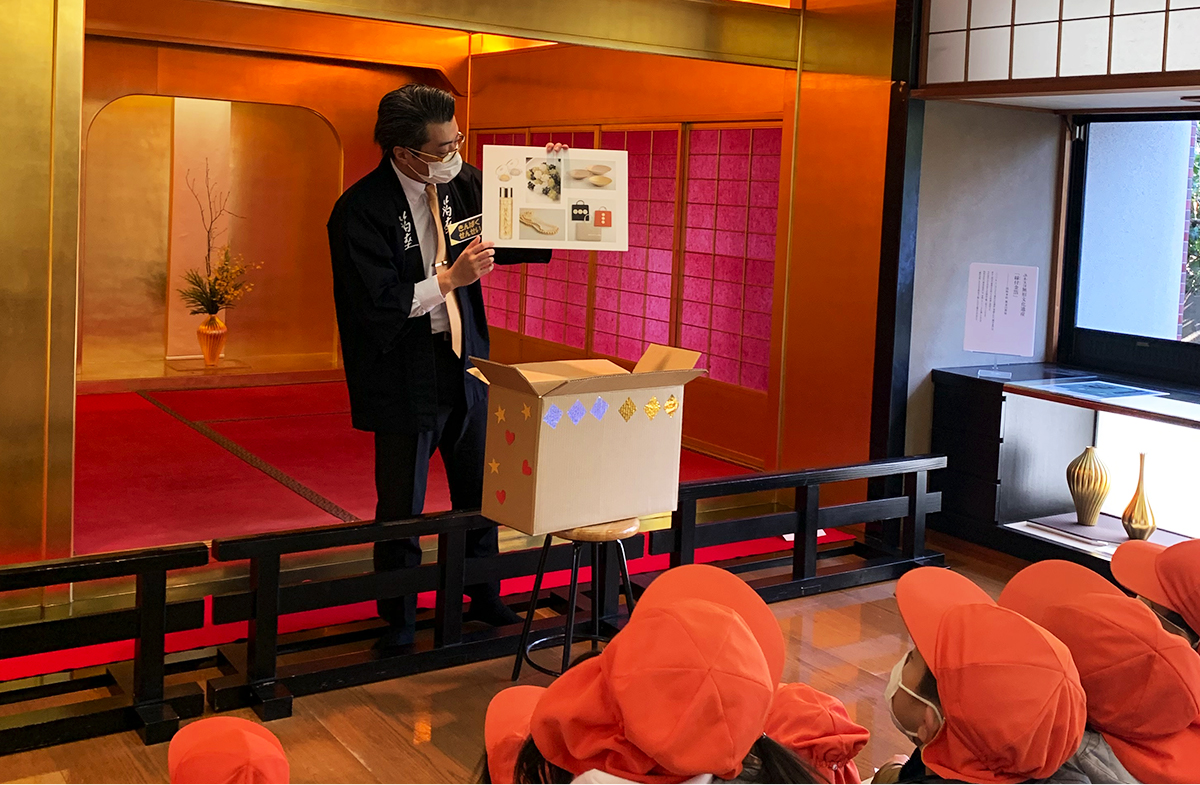 A classroom lecture, enjoyable even for kindergarten children, by HAKUZA's gold leaf teachers, and a gold leaf application experience in which a small box is created. We have continued to provide this program for children from Hikari Nursery School since around 2008.
Imagine Kanazawa 2030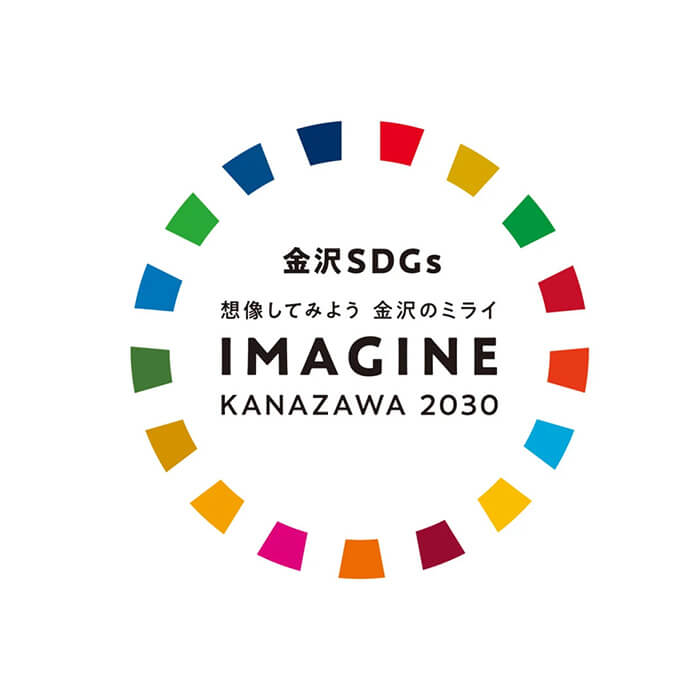 We believe that the "Children's Gold leaf Workshop" contributes to the "5 courses of action" of the Kanazawa SDGs.
A city that is old, new, and comfortable
Encourage urban development based on nature, history and culture
A city where children can dream
Create an environment that draws forth the potential of our children who will lead the next generation
Imagine Kanazawa 2030
In 2020 the number of customers visiting our stores in Nihonbashi, Tokyo, as well as in the tourism destination of Kanazawa, decreased sharply due to the spread of COVID-19. Cosmetic and food items which were expected to be sold remained in excess inventory. Rather than throwing them away, we wanted to use them to create even one smile, so we donated them to local children's cafeterias that provide free or inexpensive meals, medical workers, welfare facilities and restaurants. Since then, we have continued to work to expand those connections.
Donation of food to volunteer-run cafeterias that provide free or inexpensive meals to children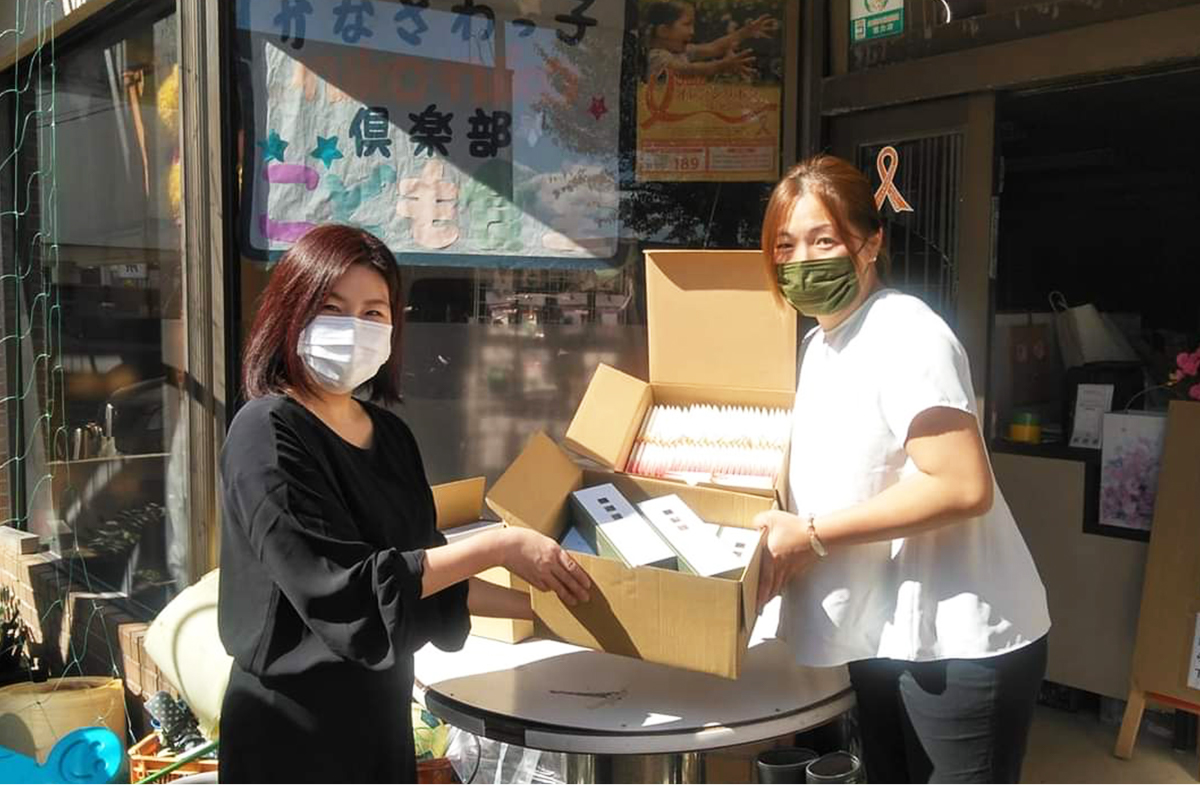 Donation of food to volunteer-run cafeterias that provide free or inexpensive meals to children
Assisting support activities for women who experienced various difficulties due to the COVID-19 pandemic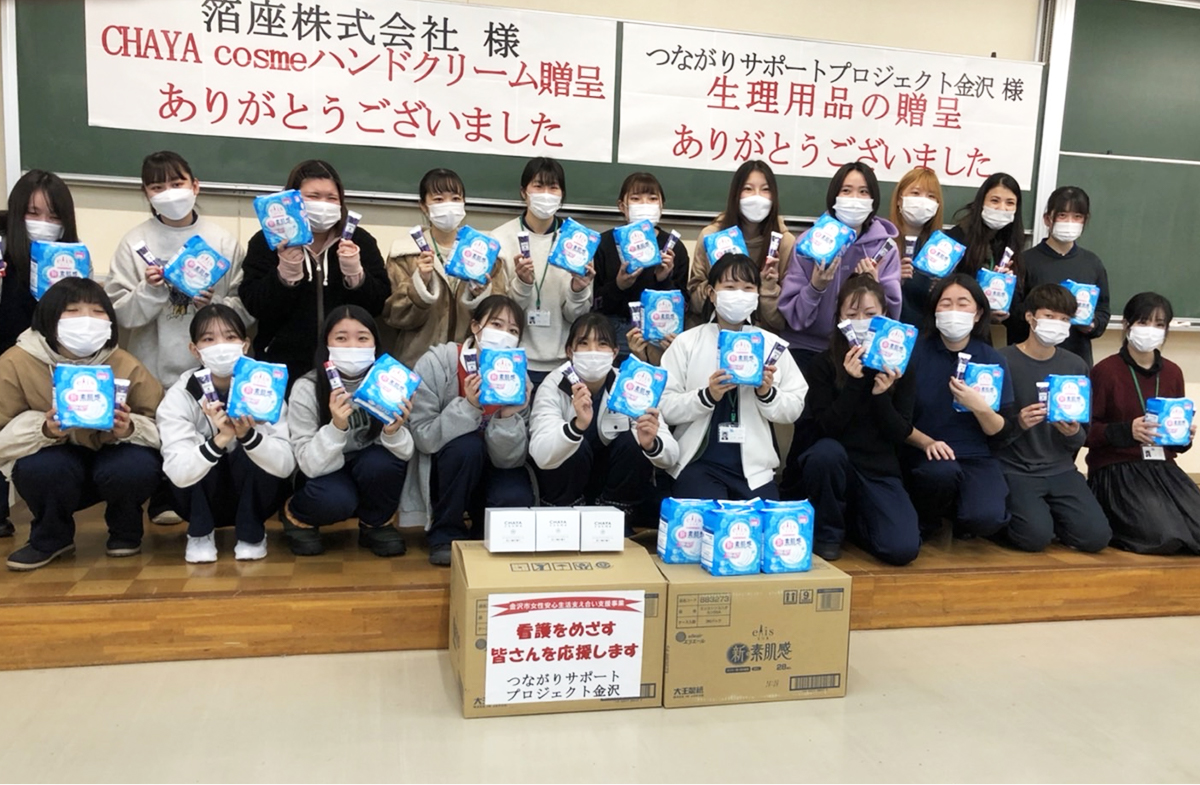 We supported the activities of Tsunagari Support Project Kanazawa by providing cosmetic items. This project carries out support activities with nursing, childcare and welfare students for women who experienced various difficulties due to the COVID-19 pandemic.
Kanazawa City Welfare Activity Development Fund
To commemorate the opening of HAKUZA Main Store, in April of each year donations from employees and a portion of sales are combined and delivered to the Welfare Policy Division of the Kanazawa City Welfare and Health Bureau. Donations are added to the Kanazawa City Welfare Activity Development Fund to promote and nurture welfare activities for the elderly and disabled as well the community, and to fund social welfare projects. This initiative has continued every year since 1992.
Hodatsushimizu Town is located between the Chirihama Nagisa Driveway on the Sea of Japan, the only beach in Japan that can be driven on by car, and Mt. Hodatsu, Noto Peninsula's highest peak. Mt. Hodatsu used to be a gold mine of the Kaga Maeda clan, so the town planned a project related to gold. HAKUZA approves of this aim and promotes activities in cooperation with the Hodatsushimizu Town government and businesses as a partner.
For all 6th grade students in Hodatsushimizu Town, we hold customized gold leaf application workshops unique to the town, which is home to Mt. Hodatsu, a former gold mine. We are also working together for the development of specialty products, PR events, joint promotions etc., to spread the appeal of our hometown Ishikawa.
Hodatsushimizu Town's Takara-aji (treasure taste): introducing Hodatsushimizu Town's tasty food at our company store in Nihonbashi, Tokyo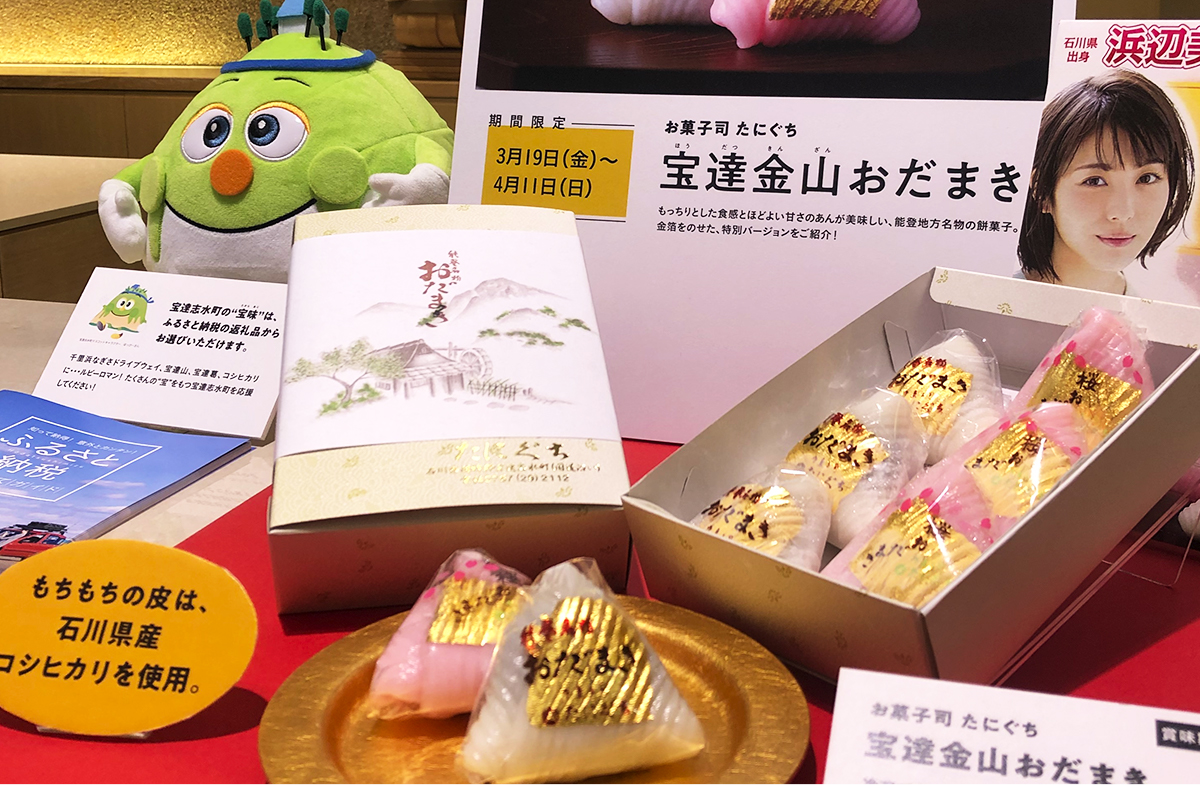 The Takara-aji project aims to introduce the appeal of Hodatsushimizu Town's tasty food. A special version of the product has also been created featuring HAKUZA gold leaf.
Participation in Hodatsushimizu Town's "Takara Adventure Marathon"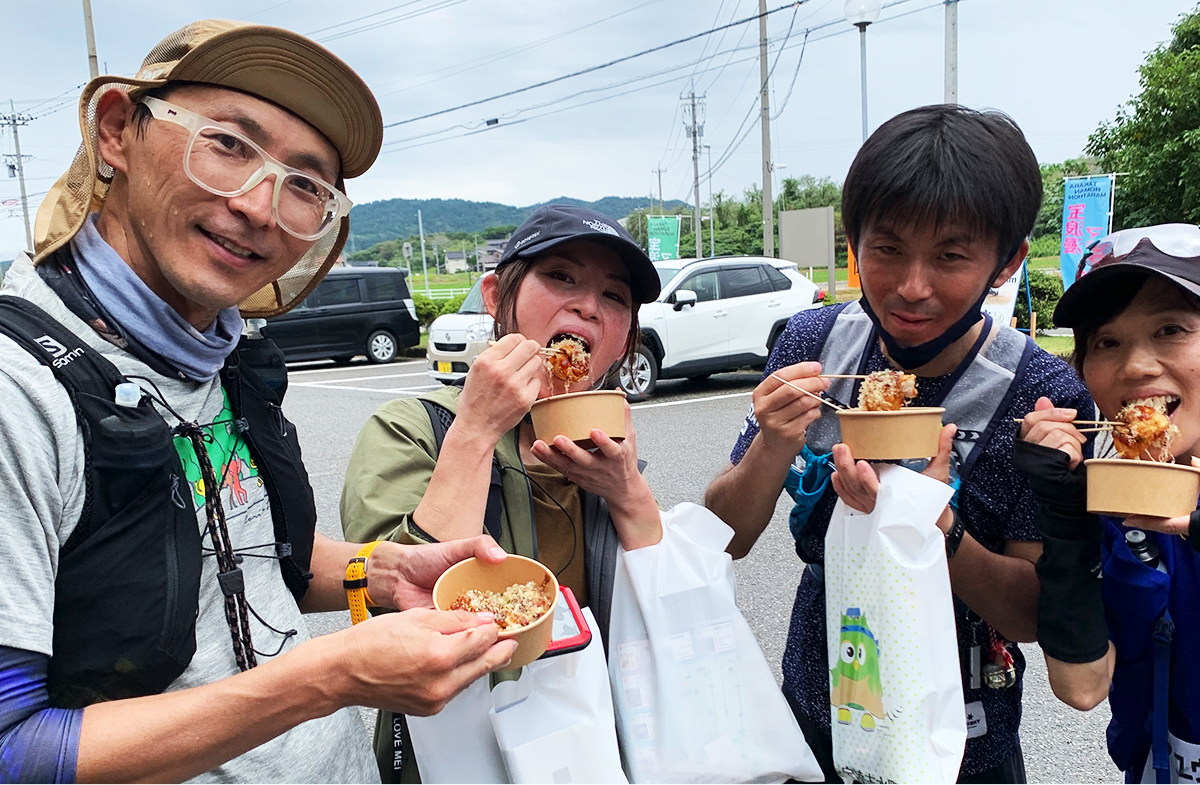 In addition to providing Takoyaki octopus ball snacks, all participants were provided with HAKUZA gold leaf hand cream.
About SDGs
The SDGs (Sustainable Development Goals) are international goals that were adopted at the United Nations Summit in 2015, with an aim to be achieved in the 15 years from 2016 to 2030. They consist of 17 general goals and 169 targets (specific goals) toward the realization of a sustainable world.