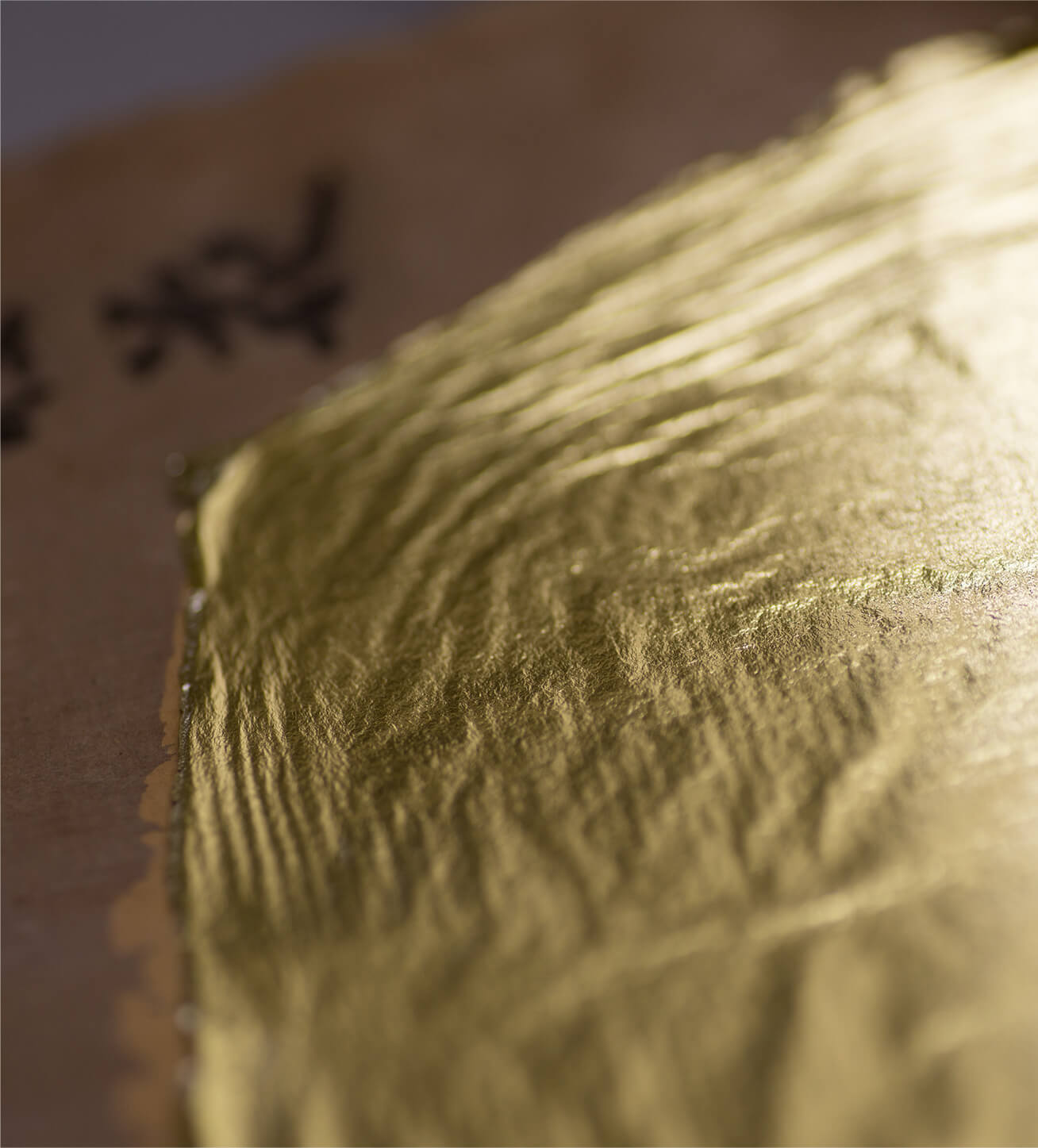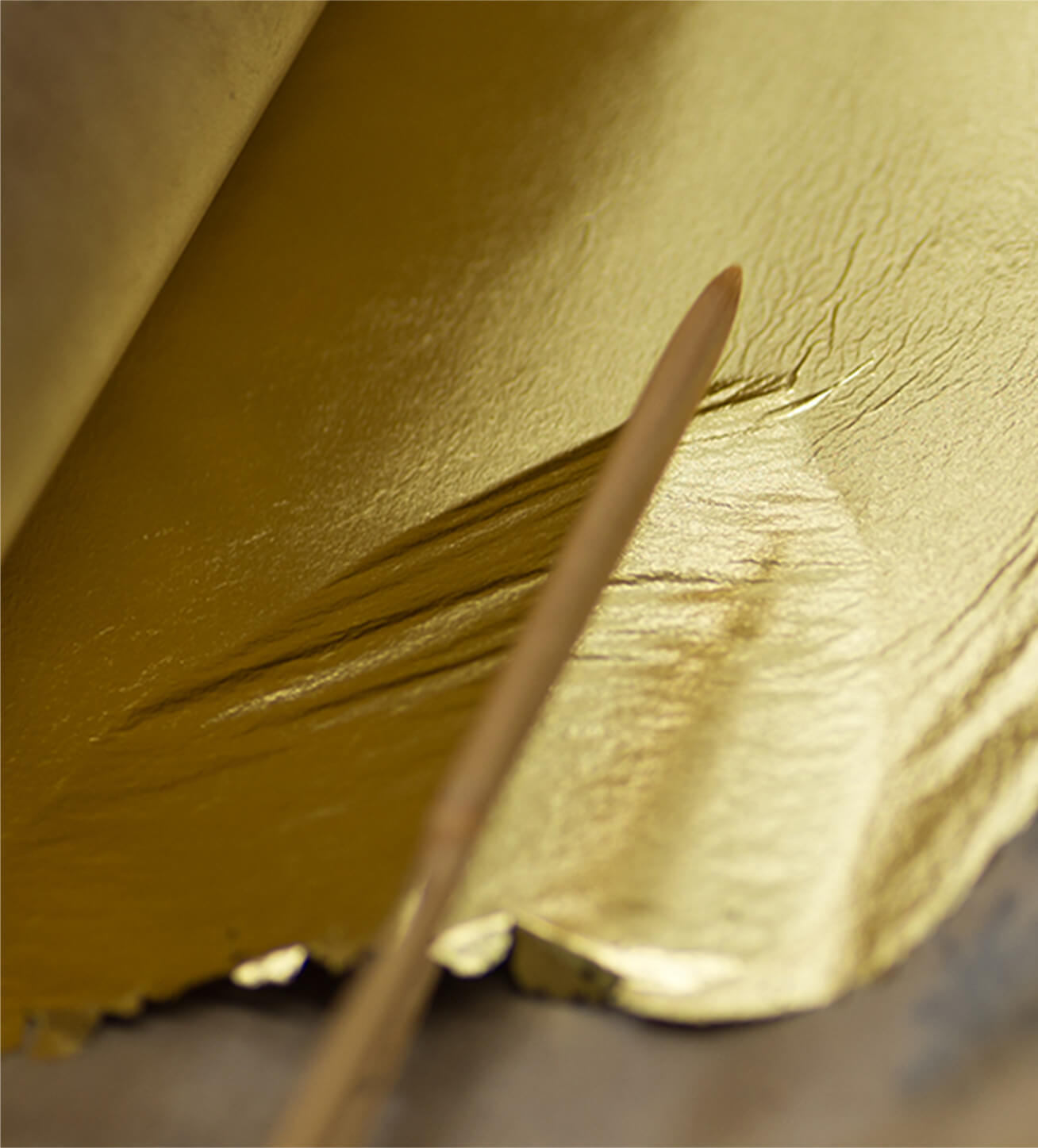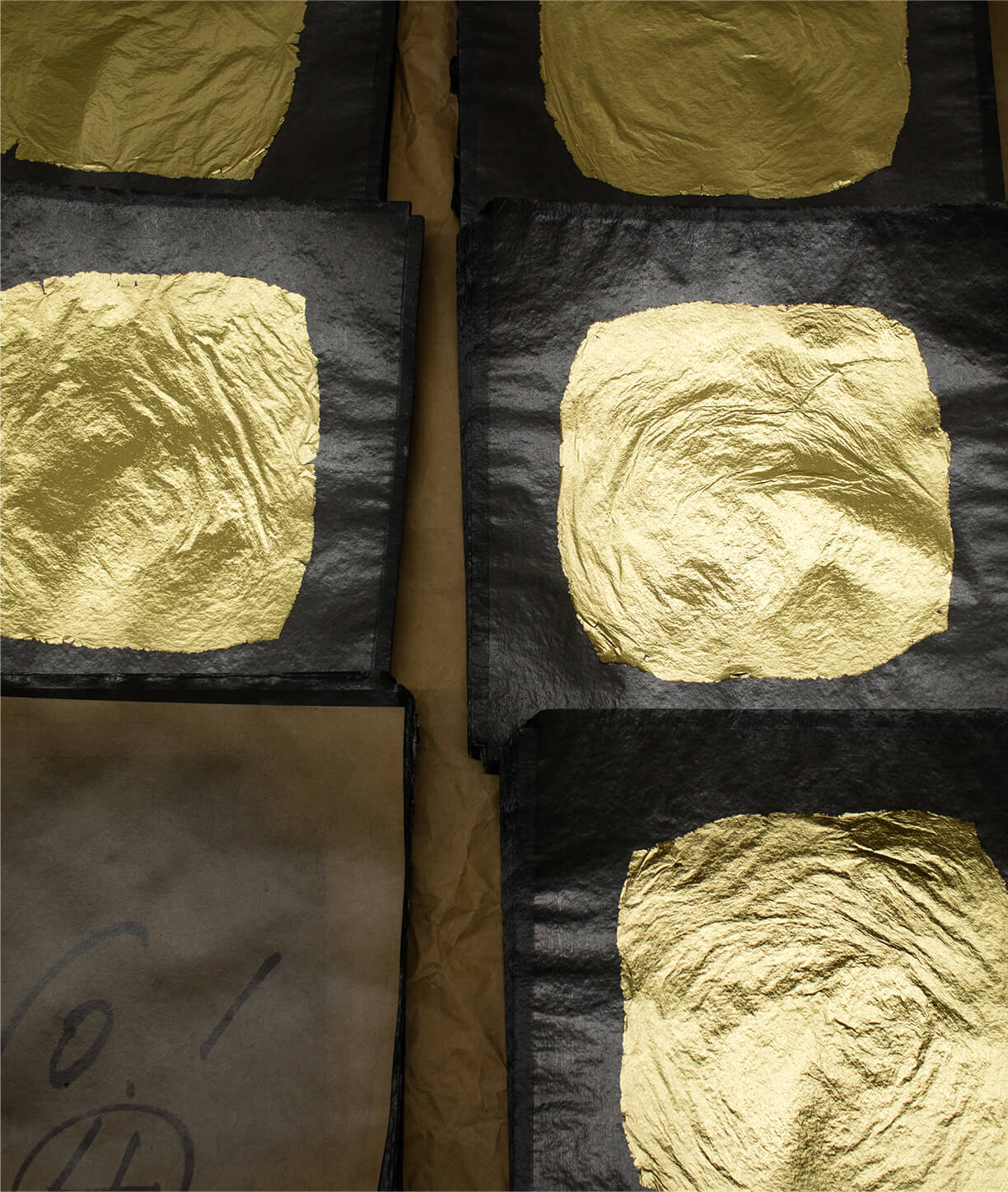 TAKAOKA SEIHAKU Inc., one of our group companies, possesses both traditional entsuke gold leaf and modern tachikiri gold leaf production techniques.
The former has been designated as a UNESCO intangible cultural heritage and is used in the repair of national treasures and important cultural assets, while the latter is the technique used in mainstream applications.
We produce quality metal leaf to offer an optimum product according to customers' uses and requests.

We are also engaged in the development of metal leaf processing technology to expand its possibilities.
In 2022, we developed two types of Pure Gold Platinum Leaf by producing alloys of the precious metals of pure gold and pure platinum.
Although differing in composition ratio, both of the products, towa-color and kuon-color, feature innovative colors and textures and succeeded in adding new value to HAKUHIN and many other products.

Also, we developed a new platinum gold leaf from an esthetic perspective, in pursuit of positive effects and gentleness on the skin.
We will continue to preserve traditional Japanese culture and create metal leaf that suits the needs of times.
Temples and shrines in which our gold leaf* was used for repair (*TAKAOKA SEIHAKU Inc.)
Tendai Buddhism Sect, Tohoku District Main Temple, Kanzan Chuson-ji (Konjikido Golden Hall), Iwate Prefecture
World cultural heritage
The "ancient gold leaf", featuring curved edges without cutting, was recreated during the major Showa restoration beginning in 1962.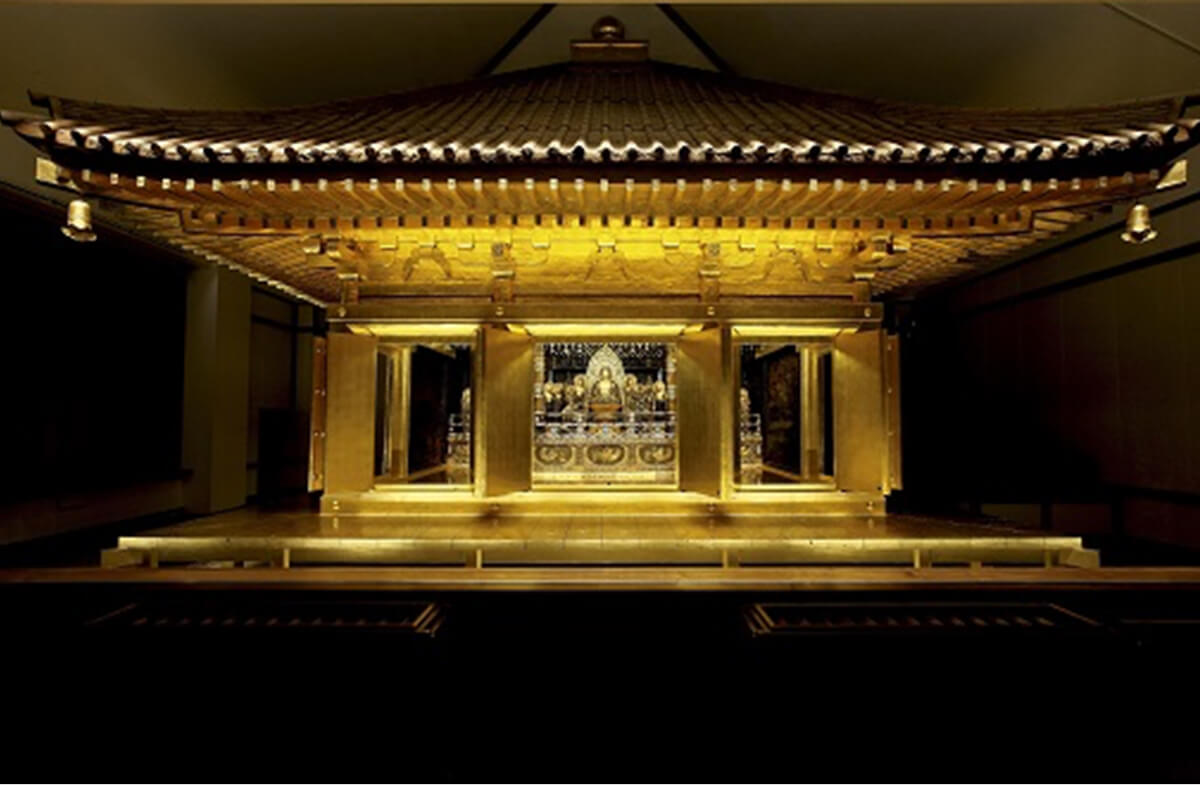 Jodoshinshu Buddhism Sect Honganji School, Honganji Temple (Nishi Honganji Temple), Kyoto
World cultural heritage
In the largest repair project in 200 years, our gold leaf was used in the repair of pillars, walls and pictures of Goei-do Hall in the Heisei major restoration.
Onwasan Kiyomizu-dera Temple, Kyoto
World cultural heritage
The hand-beaten gold leaf in the Zuigu-do miniature shrine, which enshrines the Zuigu Boddhisatva, was reproduced for the first time in 85 years during repairs at the shrine.
Honganji School Kanazawa Temple, Ishikawa
An Ishikawa Prefecture tangible cultural asset (main hall, scripture house and bell tower)
Also referred to as Kanazawa Nishibetsuin, its main hall was reconstructed in 1849 and repaired in 1993. Gold leaf is used for the inner room, pillars, walls and sculptures.
Our gold leaf was used for the repair of about 35 temples and shrines across the country including important cultural assets, such as State Guest House (Tokyo), Nikko Toshogu Shrine (Tochigi), Shinshu Zenkoji Temple (Nagano) and Shuri Castle (Okinawa).